The family and I recently explored the Byfield National Park area in our ZONE RV ZBF-20.6 BASE SERIES Family, and we loved it so much that we wanted to share our highlights with you all. As with any camping experience, we learned a few things while we were there. So, I've included some tips for those who haven't been to the Byfield area, including what we would do different next time.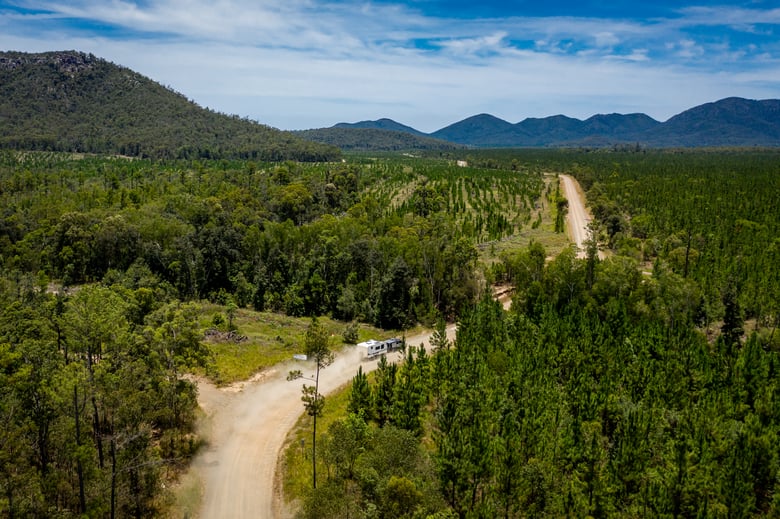 1. It has the best of both worlds
I can never really decide whether I prefer camping in the bush by a freshwater creek or in the sand dunes by the salty ocean. This is why we loved Byfield National Park, because you can do both. We spent a week in the area – a few nights at Stony Creek, a couple of nights at Fern's Hideaway Retreat, and a beach camp at Nine Mile Beach.
The drive out to Stony Creek through the Byfield State Forest is stunning; we were just captivated by the beautiful mountain ranges behind the endless pine trees.
Stony Creek provided a lovely campsite that backed onto the creek. The rope swing into the creek was a highlight for us at this camping spot.
I do have to say though, if you are coming to this spot make sure you're prepared for the mosquitos. Of course, it is seasonal, but while we were there the mosquitos were terrible. I managed to pack a natural insect repellent for the kids and we just made sure they had long sleeve clothes on at dusk and dawn.
Fern's Hideaway is a beautiful privately owned property that offers caravan and camping sites, as well as cabins. We had plenty of room to park our van on perfectly manicured green grass. The highlight here was definitely the free canoeing experience along Waterpark Creek which the property backs onto. All four of us – Dave, the two kids and I – all fit in one canoe and went for a row up the creek. I highly recommend this!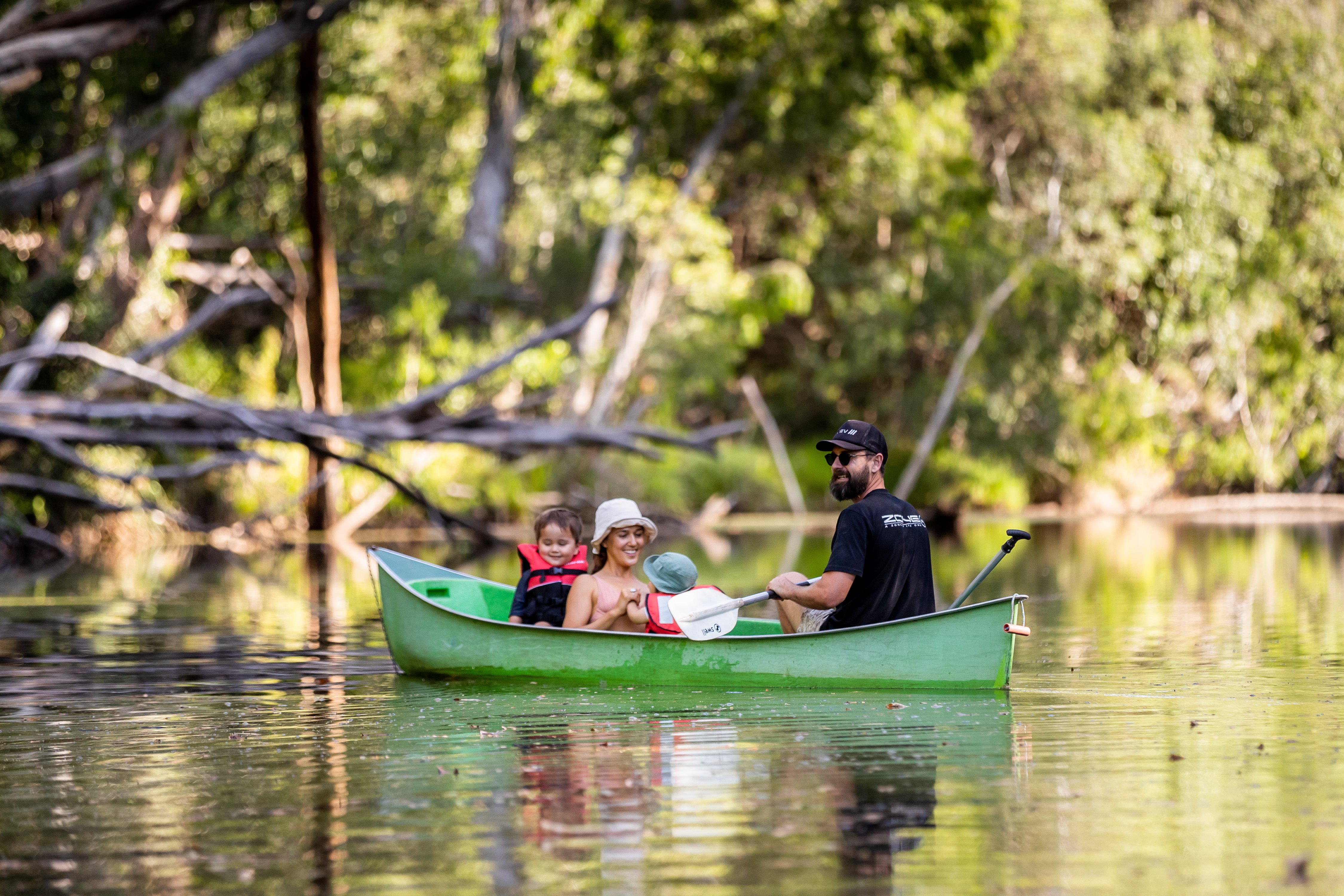 Fern's Hideaway was a good campsite for filling up the water tanks too before we went beachside. We unhitched the van (left it at Fern's Hideaway) and packed some supplies into Dave's Z-UEV. While we enjoyed the flexibility of having nothing to tow and sleeping in the canopy and swags on the beach, it sure did remind me of how truly spoilt we are camping in our van!
We stayed at a campsite at Nine Mile Beach and spent the next day at Five Rocks Beach. Five Rocks beach offered a great adventure for the whole family exploring the famous Five Rocks and surrounding rock pools.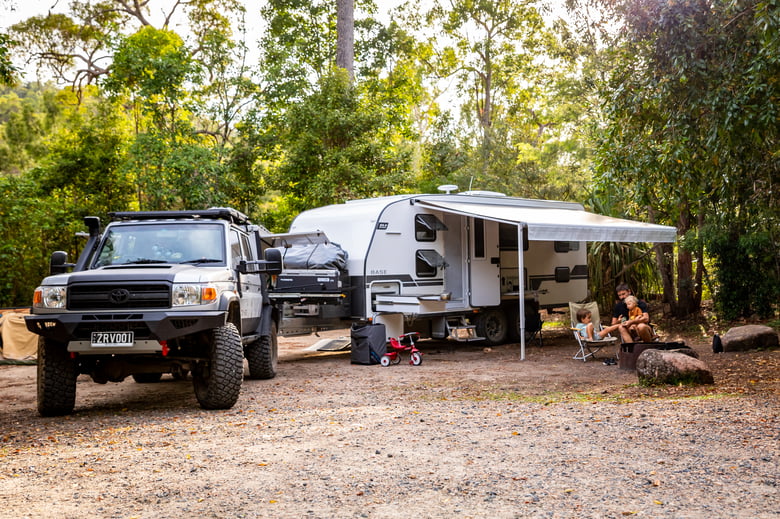 2. The Australian wildlife is abundant
The Byfield National Park area is known for its diverse range of bird species, so if birdwatching is your thing, then this is destination is for you. I'm no professor when it comes to bird species, however we knew what an emu was when we saw it! We even saw an emu with chicks walking on the side of the road. But birds aren't the only wildlife you'll see.
Just in the week we were there we saw goannas, snakes (including a huge sea snake nestled in a rock pool at Five Rocks), sharks, a stonefish (at Stony Creek), a stingray, and of course we heard about the potential of seeing saltwater crocodiles.
But if you ask our three-year-old Donny what his favourite animal was, he will tell you it was Banjo. Banjo is a hand-raised wallaby at Fern's Hideaway that the kids were able to pat and feed. We were definitely unprepared for some of the wildlife we came across.
In fact, Dave thought he was going kite-surfing before the locals warned us about the sharks and crocodiles!
Next time we will also be packing reef shoes for Stony Creek as a safety measure against stonefish.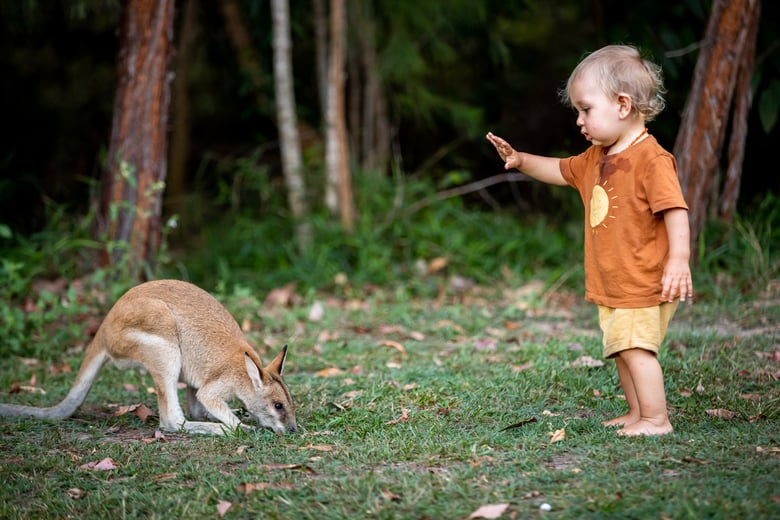 3. It feels like a remote camping experience, even though civilisation is nearby
Byfield National Park is a great destination for those who love the idea of remote camping but still like the comfort of knowing a township is close. With Yeppoon about 40 minutes away and Rockhampton about an hour away it's easy to stock up on any essentials you need or may have forgotten. During our time in the area, we were pleasantly surprised at how quiet it was. Particularly on our coastal exploration, most of the time we were the only 4WD on the beach. We were the only people at our campsite on Nine Mile Beach which made for a very special experience. I'm sure it would be busier at other times of the year though.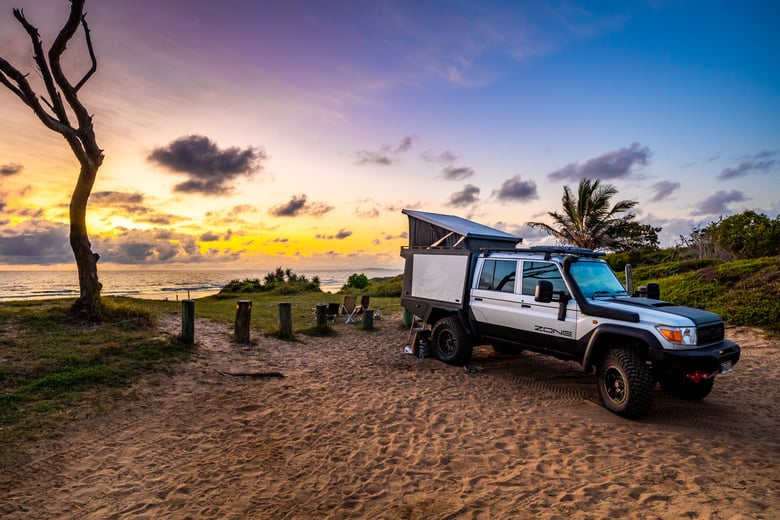 4. It's a real 4WD adventure
OK, I'm not kidding when I say the Big Sandy beach access track at Byfield National Park is a serious challenge. There's just no way we would have made it onto the beach with our caravan in tow! You'd be doing REALLY well to even tow a camper trailer or EXPEDITION SERIES up there. In saying that, it was super fun tackling this track and the other beach tracks in the area such as the Death Valley Track (name says it all, right?).
Our two little boys love a good 4WD adventure, so they were laughing their heads off bouncing around while driving on these tracks. The tracks were seriously bumpy, the sand was extremely soft, and the tracks were some of the narrowest we've been down. Remember your recovery gear (Maxtrax are a must) and it's not a bad idea to travel with friends in case you get stuck.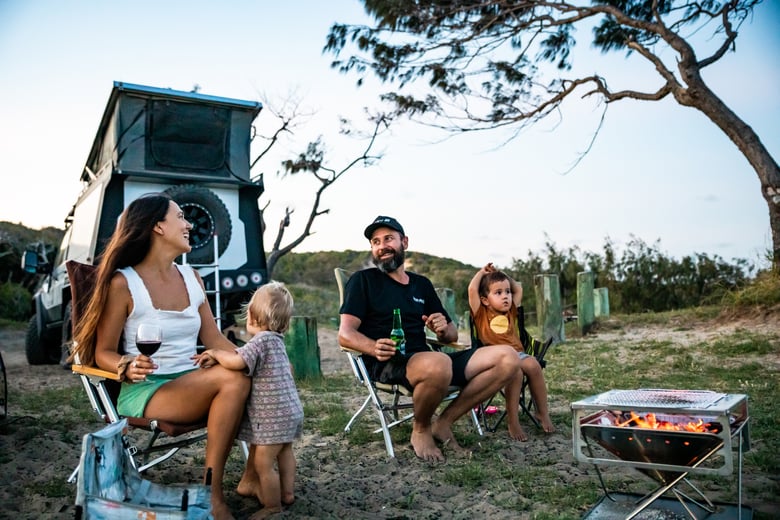 5. The locals alone are worth the visit
If the previous four reasons weren't enough, I would say get to Byfield just to meet some of the locals in the community. Everyone we met in the area were very friendly, helpful and keen to make us feel welcome. The Byfield General Store was absolutely charming and boasted an impressive menu. It also definitely fulfilled Dave's craving for a barista-made coffee.
Attached to the Byfield General Store is a unique shop filled with locally made natural products and other items with a focus on health and sustainability – it was an absolute gem of a find. We always love to try and support local businesses when we're on the road, so a locally made insect bite balm for the whole family made the perfect excuse to buy something.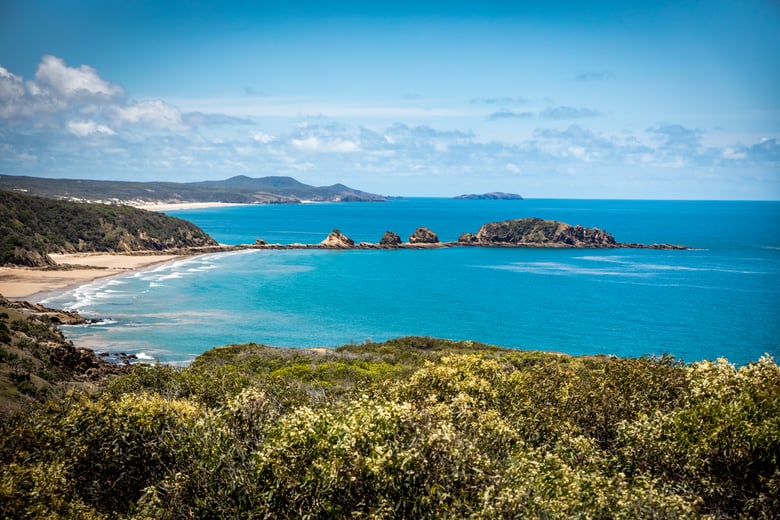 I hope these five reasons entice you to visit the Byfield National Park area, and hopefully I've provided some useful information that can help with planning a trip there. It can be rough and tough, but it can also be peaceful and picturesque at the same time. It would definitely be nice to see some Zoners there next time!