This recipe is a favourite in our house, so the fact that it's also so easy to whip up in the caravan is a huge win for the whole family. I have made this recipe in our ZONE RV Family Base 20.6 many times and it never disappoints. It's vegetarian so we love to eat it on what we call our 'meat-free Mondays' each week.

First things first though, I don't make the gnocchi from scratch. We bulk buy 500g bags of pre-made gnocchi from our local Farmers' Market in Yandina and store them in the freezer. You can also buy pre-made gnocchi from most supermarkets or independent grocers. The fact that the gnocchi can be kept in the freezer makes it a great meal option while camping, because as most of you know, food needs to last until the next destination for supplies is reached!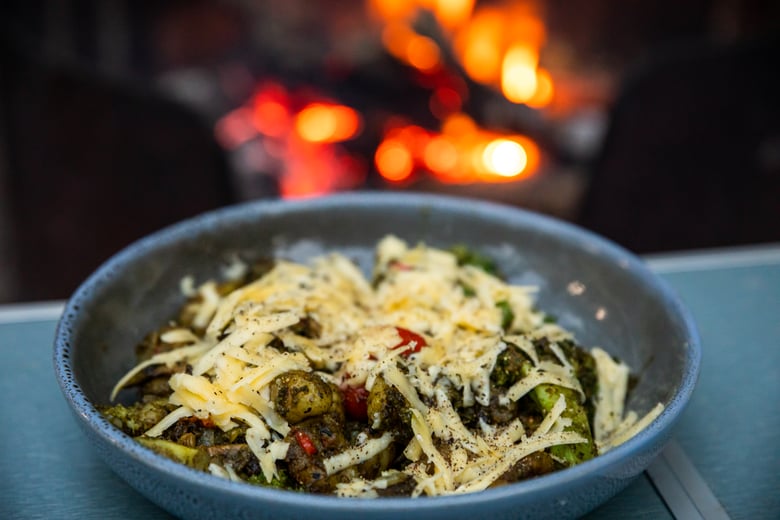 The next thing I need to mention is this recipe requires a decent blender to blitz the pesto sauce. One of the perks of making this recipe in a ZONE RV is that I was able to use my favourite NutriBullet, as the van has 240v power. So, I guess you could say this isn't your average 'camping' meal… In saying that, if you're camping without 240v power, you can always make the pesto sauce in advance and simply freeze it.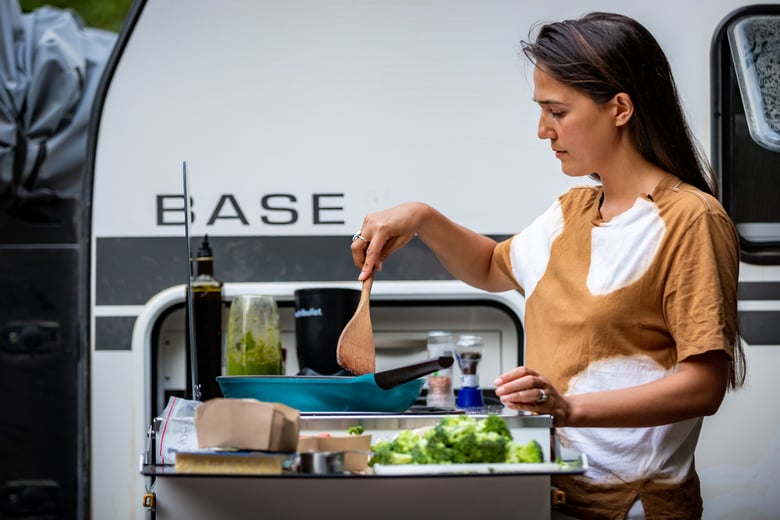 Serves a family of 4 (2 adults and 2 kids).
Prep time: 10 mins
Cooking time: 15-20 mins

Ingredients:
• Pre-made gnocchi (750g)
• Head of broccoli (cut into small florets)
• Punnet of mushrooms (sliced)
• Punnet of cherry tomatoes
• One small brown onion
• One red cayenne chilli

Pesto sauce:
• Large bunch of basil leaves
• 1/3 cup of pine nuts
• 1/3 cup of olive oil
• ½ of cashews (You can use ½ a cup of parmesan cheese instead of cashews if you can tolerate dairy)
• 4 garlic cloves
• Salt and pepper (generous amount of pepper!)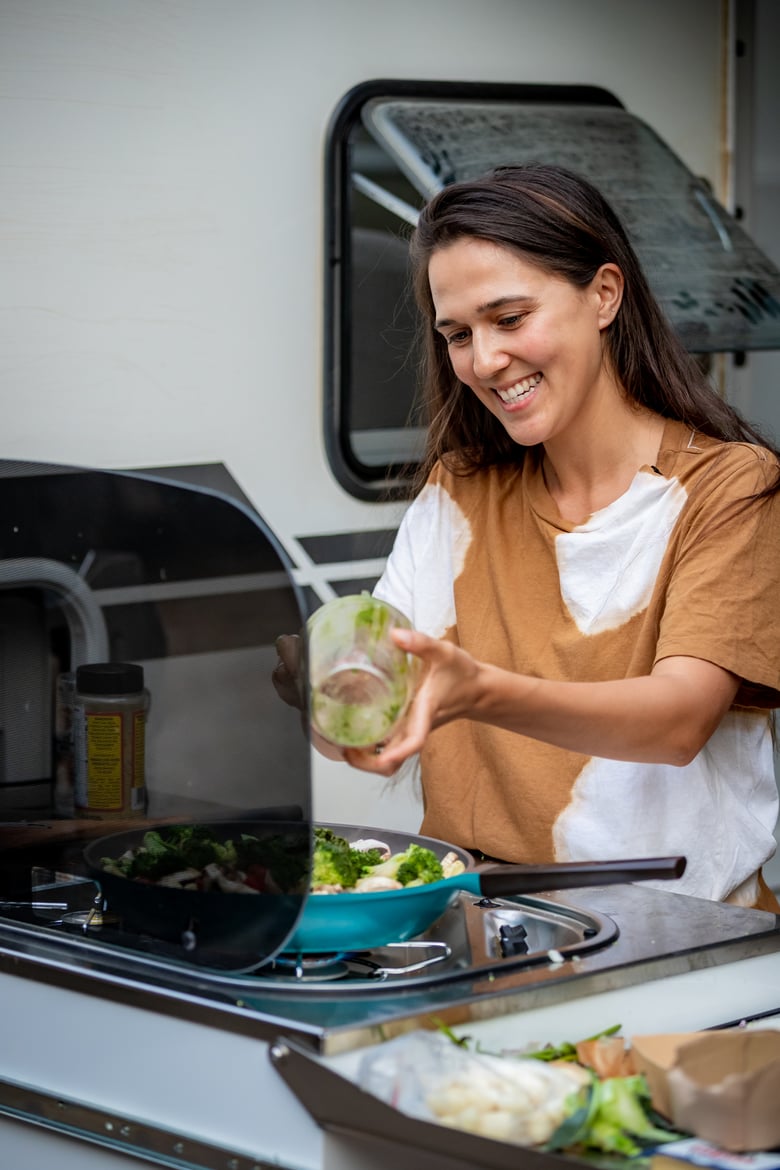 Method:
1. Pour all the pesto sauce ingredients inside the blender and blitz until smooth. Add a splash of water or more olive oil if the blender is struggling to blitz the sauce. Set aside.
2. Heat a large fry pan on high. Pour a small glug of olive oil into the pan and add the gnocchi. You want the gnocchi to become golden and slightly crispy on the outside.
2. While the gnocchi is frying, chop all of the vegetables.
3. Once the gnocchi is slightly golden and starting to get crispy, add all of the vegetables. Fry for a couple of minutes.
4. Add all of the pesto sauce and mix through. Stir for a few minutes until all the vegetables and gnocchi are covered in sauce. The gnocchi should be slightly crispy and the vegetables should be soft.
5. Serve with extra pepper.
My kids and husband Dave love adding cheddar cheese on theirs so that's an option too!
There you have it, my pesto gnocchi recipe. Hope you are inspired to try it on your next camping trip or even just at home! Get creative, you can always just use whatever vegetables you have left in the fridge or freezer – plenty of other vegetables will work just as well.