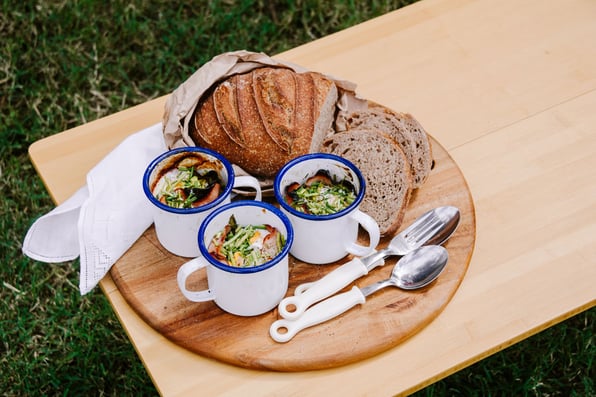 CAMPFIRE BAKED HAM & EGGS
Sometimes when you get up in the morning and open the door to your ZONE RV and see the beautiful view in front of you, all you want to do is get a cosy campfire going and cook a simple yet delicious for breakfast over the coals.
Enter our Campfire Ham & Eggs; baked in enamel mugs, these little cups of cosy goodness on a cold morning are like warm hugs in a mug.
And best of all? You bung all the ingredients into the mug, wrap it in aluminium foil, and let the coals do all the hard work.
Serving size:
4 people
Ingredients
Olive oil spray

4 thin slices of ham (or bacon)

Handful of fresh spinach leaves, roughly chopped

Handful of grated cheese, cheddar or mozzarella

4 eggs

Small packet of shallots, finely sliced

Sea salt & cracked pepper, for seasoning
Equipment
Aluminium foil

Campfire with glowing coals

Coal safe tongs

4 enamel mugs

Chopping board

Sharp knife

4 forks
Directions
Prepare a campfire safely with glowing coals.

Spray the insides of the mugs with olive oil.

Place a slice of ham into the mug to line the sides and base. Add a small handful of spinach leaves and grated cheese into the bottom of the mug, pressing down slightly with your hands.

Crack an egg into each mug.

Place each mug in the centre of a large sheet of aluminium foil. Bring the sides in and tightly twist with your hands to secure the foil together. Using your coal safe tongs, place the mugs on top of the coals and place a few around the sides of the mugs; don't place any on top of the mugs as you will need to check when they are ready, and you may get ash in your mugs and on your food. While it's totally safe if you are using natural coals, no one likes that added bit of texture.

Cook for 5 to 10 minutes, or until the egg whites have set. Peel the aluminium foil off from the mugs using the coal safe tongs (beware the mugs will be very hot).

Garnish the baked ham and eggs with chives, and season with sea salt and cracked pepper.

To serve, wrap a tea towel around each mug so you can enjoy your breakfast straight away, or wait for the enamel mugs to slightly cool down before tucking in.