One of our favourite features of the Z-10 EXPEDITION SERIES is the well thought out and generous amount of storage. Gone are the days of working out which single shirt and pair of shorts you are going to pack, we have plenty of room for all our summer and winter gear which is essential when doing the big lap around Australia.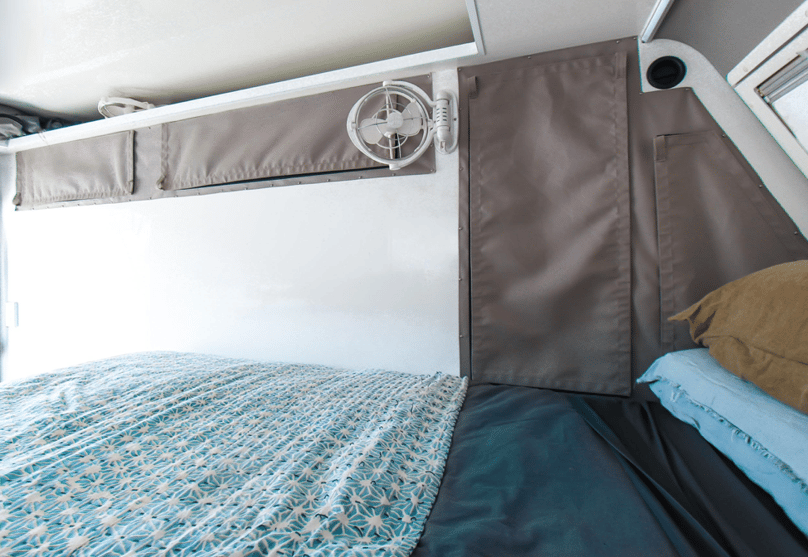 Inside the sleeping quarters we have nine small compartments on the right hand side that are perfect for storing your socks, undies, toiletries, chargers and any other small items you may need quick access to when inside. On the left hand side there are two generous sized his and hers compartments which we use for our clothing. These compartments are much deeper than those on the right and have plenty of room for shirts, board shorts, jumpers and even the big stuff like puffer jackets. Towards the head of the bed there are two more large compartments which we use to store our off season clothes, towels, spare bedding, extra rolls of toilet paper or any other supplies we may have stocked up on. One of these compartments also has a USB port so we can charge our phones or have the iPad plugged into to watch movies before bedtime. If all that isn't enough for you, the bed lifts up and gives you easy access to a huge area for all your bulky gear. We use this space to store extra food and beers for longer trips as well as our snorkelling gear, fishing rod, yoga mats, spare camp chairs and a big bag of dog food for our side kick.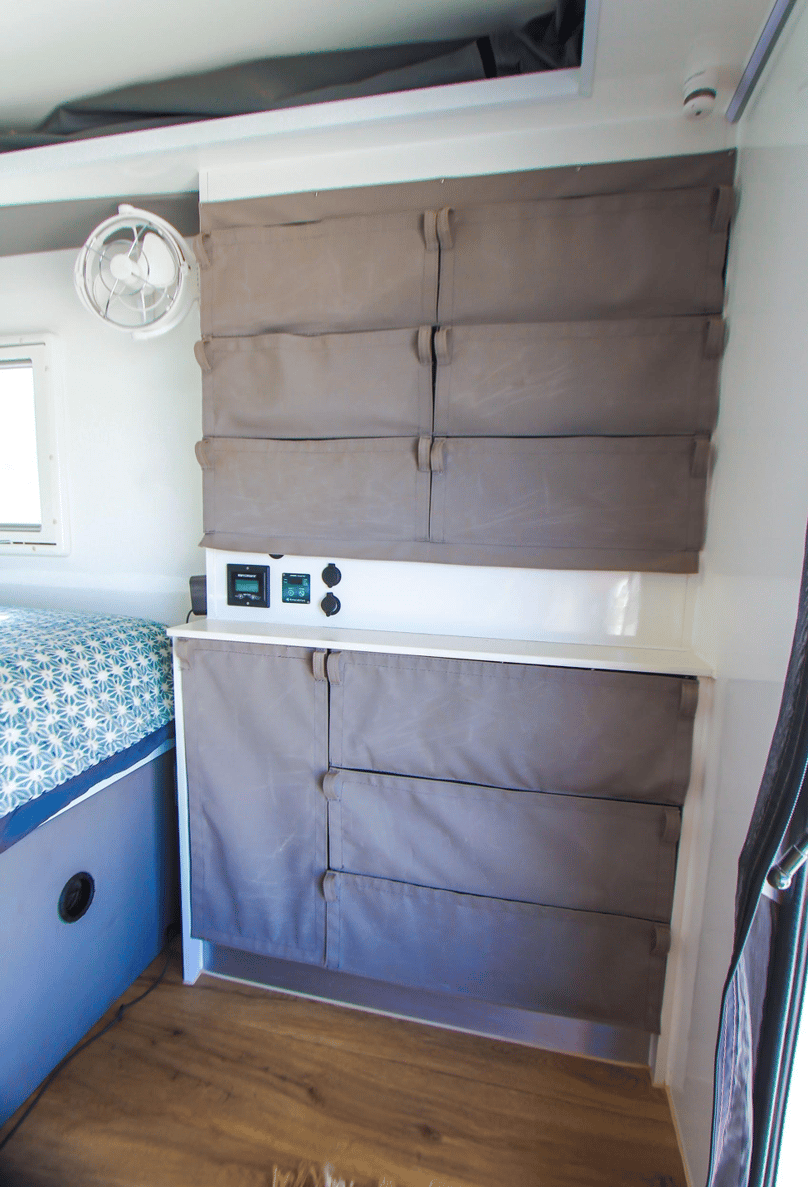 Externally there's also plenty of storage in the front toolbox. We use the drivers side to store our chemical-loo which is strapped to a slide. On the passenger side there is another slide out drawer which we use to store our messier items like, chainsaw, spare oils, axe, camp oven and campfire pans.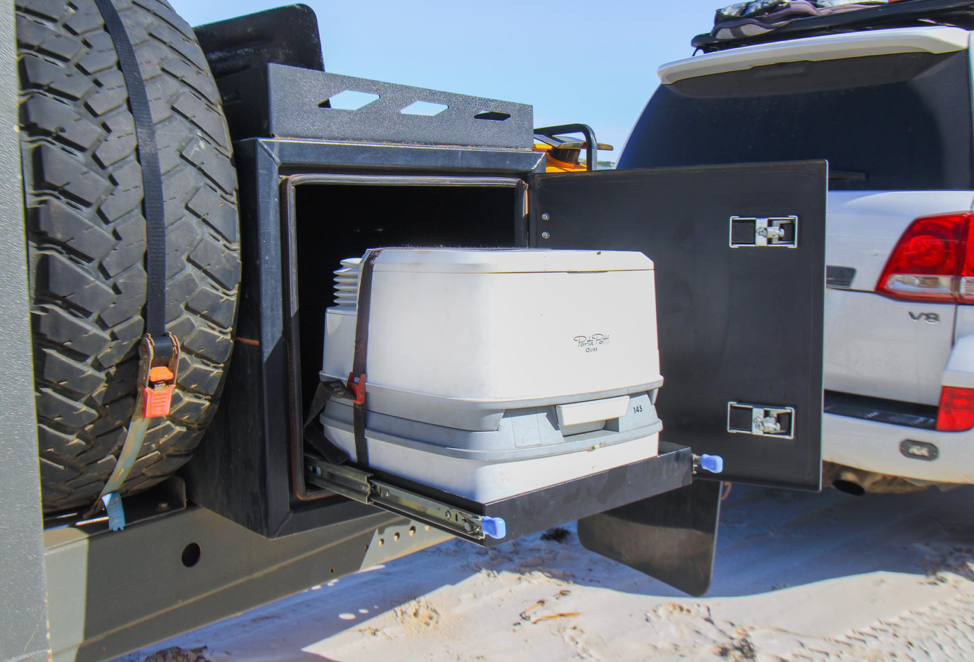 Our trailer is also optioned with the firewood rack so the top of the tool box can be used to tie down firewood, dirty gear or a couple of extra swags for the kids. On the front of the tool box we also have 2 x 4kg gas bottle holders and 2 jerry can holders for those longer trips, which are all lockable.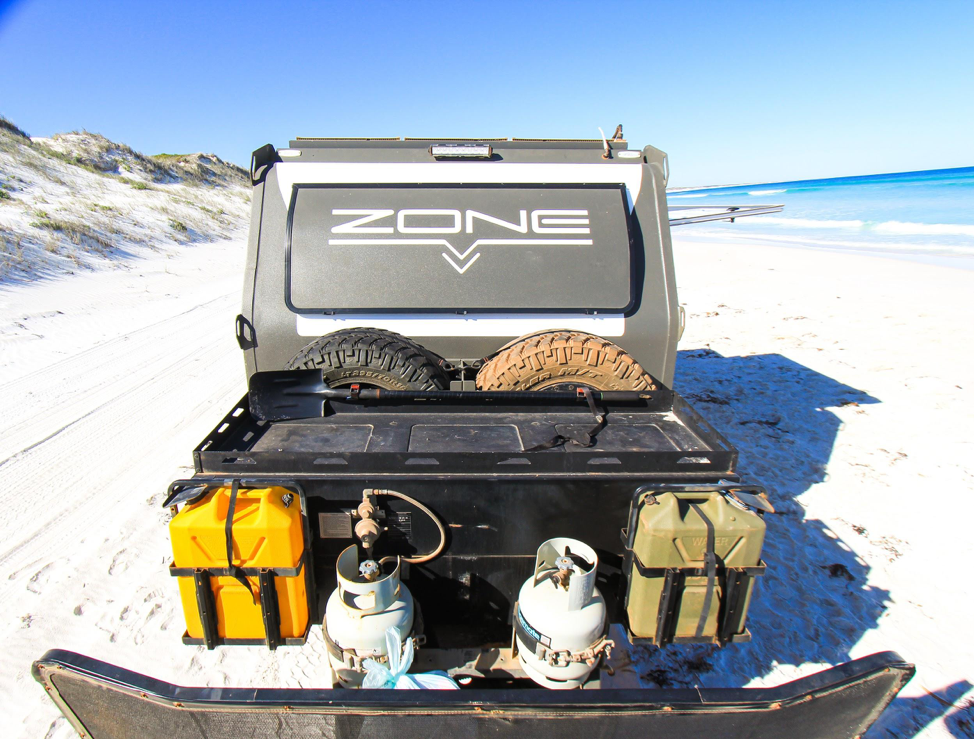 Now we've saved the best for last, I'll be the first to admit that I never thought I'd get so excited about a camper trailer kitchen. If you lift up the kitchen door and slide out your bench top/ cooker you will have access to everything you need to whip up dinner or a quick roadside coffee and snack for those longer days in the car. The door itself can provide instant shade and the kitchen is big enough to have everything in the one place. There is no need to do laps around the camper searching for pots, pans, pasta packets and cans which you have crammed into random compartments all over the place. On our slide out bench top we keep our pots, pans and blender stored in our Navigator storage bags while we travel to stop them bouncing around. In the kitchen we use the shelves above the bench as our pantry so we have easy access to whatever ingredients we need. We've also stuck a little spice rack on the top left corner which makes accessing our herbs and spices a lot easier and reduces the footprint in the shelves. The tubs on the right hand side are used to store all our onions, potatoes and sweet potatoes so they don't start rolling around the kitchen when we hit the rough stuff. On the far right we have our 'junk shelf' which is a mixed bag of goodies. The drawers below the sink are used to store our cutlery/ utensils and our plates and bowls. Next to that is the built in 75litre fridge which can be loaded up with enough food for a few weeks off grid! To make better use of the deep fridge we sourced some Tupperware containers that are a perfect fit, we fill these with loose veggies so they don't get squashed.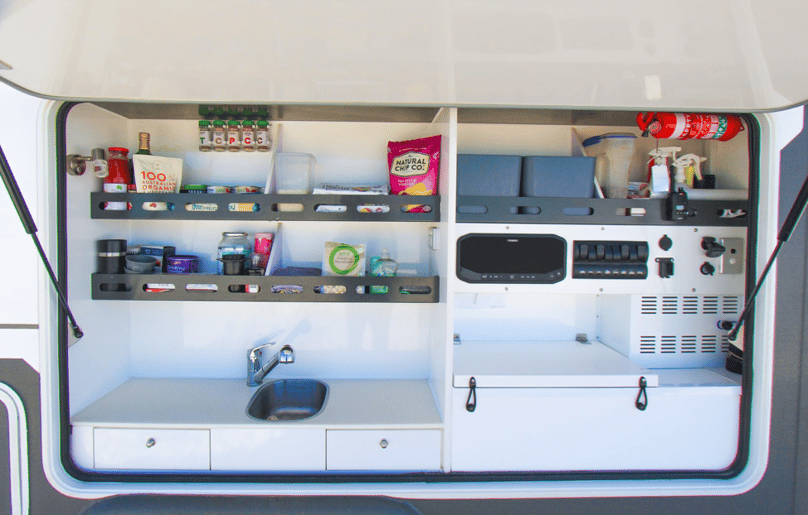 When we were searching for a compact, light weight, go-anywhere camper trailer the overall specs generally meant sacrificing storage. But thanks to the savvy design of the EXP 10.0 you can have your cake and eat it too!