If you haven't heard of this place I'd say there's a good chance you've seen photos of it. It's hard to miss the vibrant red cliffs that meet the white sand and turquoise waters of the Indian Ocean. This iconic place is actually a surprisingly easy day trip from Broome, but if you want to make the most of it I'd hitch on the trailer or throw in the swag because this place lights up on sunset and transforms shape on different tides.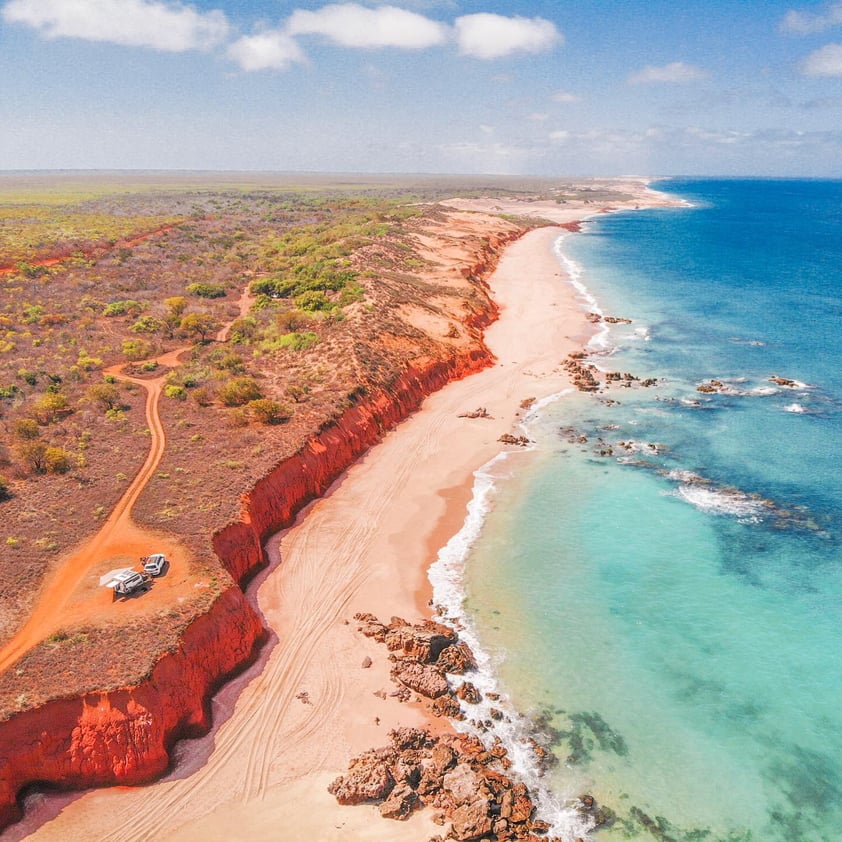 [James Price Point]
James Price point is located 40 kilometres north of Broome, along Manari Road. It's a bumpy old ride so drop your tyre pressure and it will be much more comfortable, you'll quickly forgive the corrugations when you reach your destination. Whether your day tripping or doing an over night mission make sure you pack plenty of food, water and a camera!
We'd been dreaming of exploring this part of the Dampier Peninsular for a long time so we towed our ZoneRV EXP10.0 there and spent 4 nights and made the most of it. There's plenty of camp sites that will accomodate larger vans as well. Manari Road has high banks on both sides and is quite narrow so you'll need to take it easy and slowly navigate oncoming traffic. You will need to be self sufficient so make sure you've got plenty of water and a good solar set up.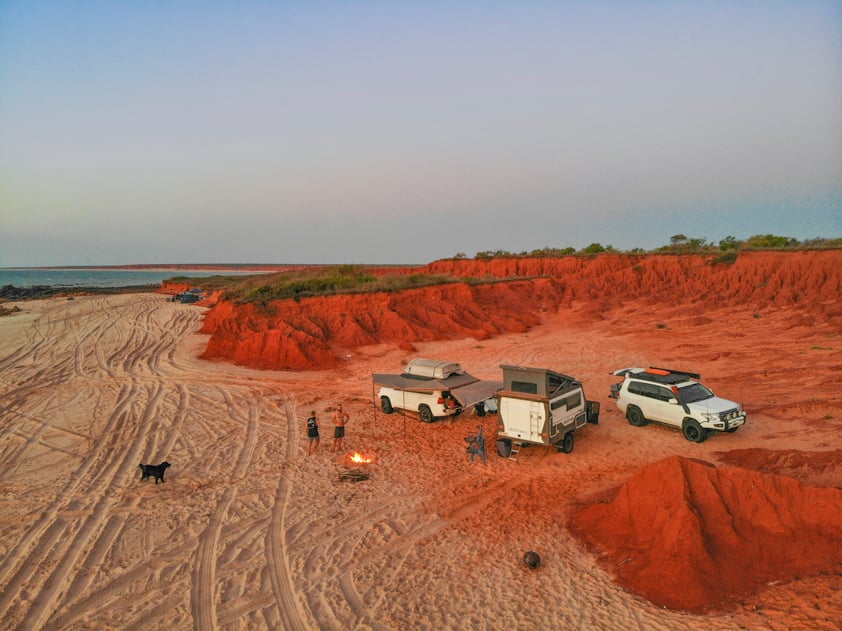 There are a few options for camping here. You can park up on top of the cliffs overlooking the ocean (highly recommended), you can drive down onto a large flat section that's at beach level with plenty of room for large vans or you can drive onto the beach and tuck into one of the red coves under the cliff.
For our first two nights we parked on the beach under the cliffs. I wouldn't recommend this option for bigger vans as turning around on the soft sand with limited space may lead to a long day on the shovel!
Also, make sure you check the tides before committing to a beach camp there is minimal reception so check the charts before you leave. The sand on the beach is soft...really soft! As a gauge we ran 10psi on the car and 6psi on the trailer and had no worries. On a low tide with the sun directly above this picturesque campsite quickly transformed into an oven, so for our third and fourth night we decided to camp up on the cliff top and make the most of the cool breeze, this was amazing!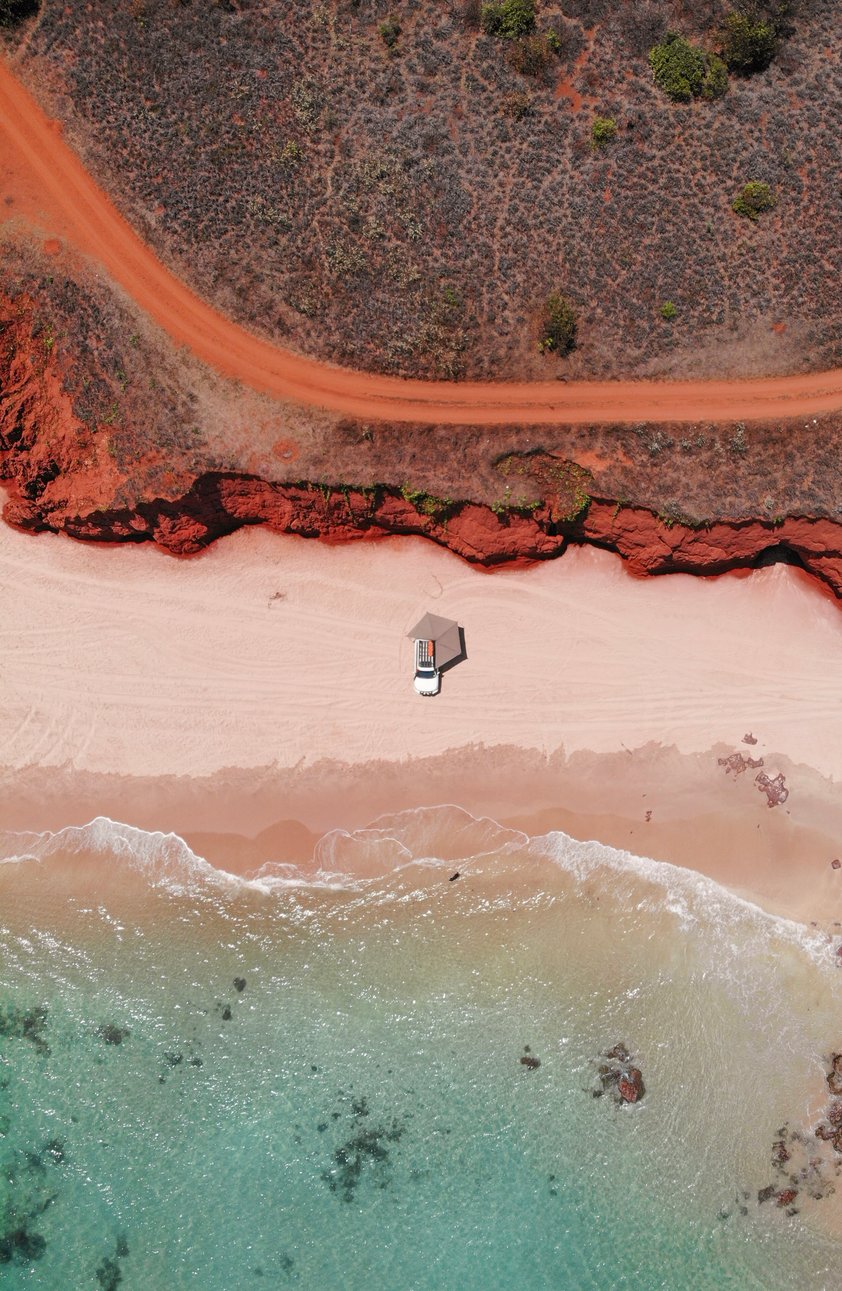 On low tide we would walk along the beach searching for rock pools for Bosley to cool off in and on high tide the fishing rods would come out. Whilst I was fishing Nat would read a book and as a precaution prepare a meal that didn't require fish...predictably I had no luck in the fishing department, our neighbours on the other hand managed to land a nice Queenfish.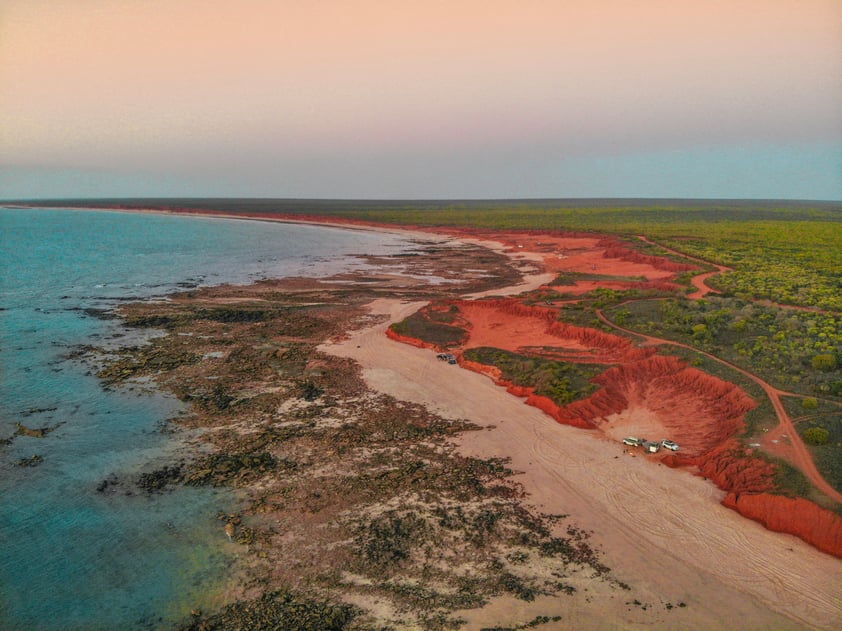 If you're travelling through Broome make sure you allow some time to explore this amazing area, it is truly unique and certainly lives up to all the hype!