Life in the slow lane...why our trip went from ticking box's to having no set plans.
When you commit to any kind of travel it's easy to fall into the trap of jamming as much into your itinerary as possible. You see, most of us are so time poor these days that we schedule the crap out of our lives just to feel like we're tick all the box's and not developing some serious FOMO (fear of missing out) along the way. Whether it's a weekend away or a year of road tripping around Australia like us, we're here to tell you, you're better off leaving big spaces in your itinerary and this is why...
Mid December 2018 we left our beautiful home in Perth to embark on a yearlong road trip around Australia. We had a long list of places we wanted to see and visions of waking up somewhere new every day. We were so excited that we practically cut off the bottom of WA and within the first week had crossed our first state border, WA to SA. Within the first month of travel we literally didn't stay in one place any longer than two nights. We had caught the travel bug hard and fast like two kids with ants in their pants.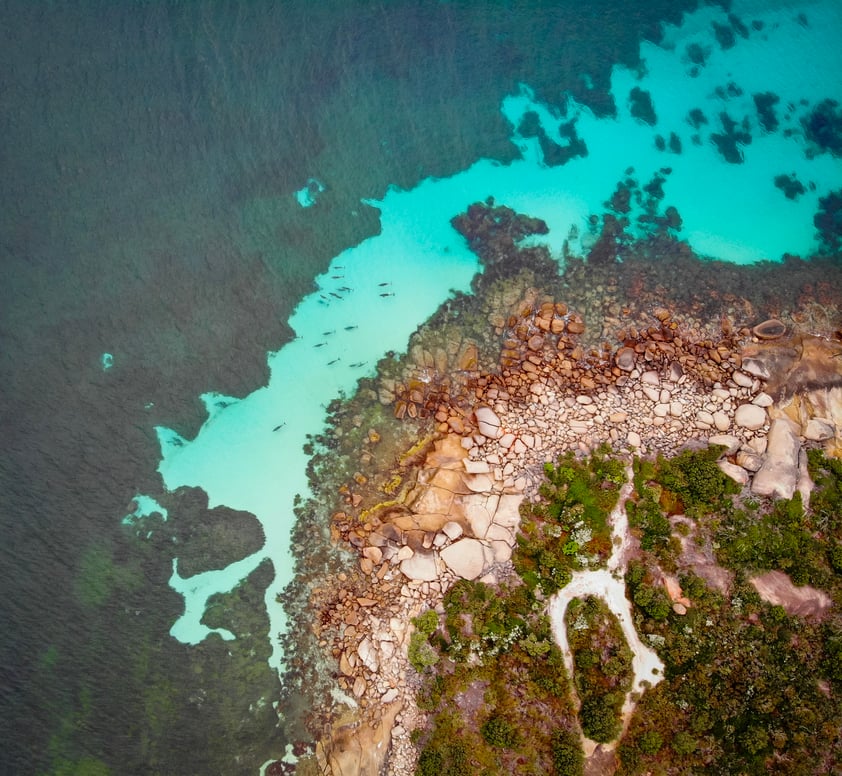 [Our first day/camp on the trip...can you believe we only stayed two nights!?]
Whilst it's definitely necessary to have certain things pre-booked we've come to learn that it's a far more satisfying style of travel to just slow things down a bit. For example, we had our trip to Tasmania pre-booked so we could make it over there for the end of summer (peak season). But as a result, we sped through so many amazing locations that we genuinely fell in love with just get to the next best thing. You know how it goes, you've got your itinerary, you've got your hit list and all those other places that someone's told you about, who's cousin had told them they visited five years ago, they said it was amazing and "you've got to go" so you jump from spot to spot just to say you've done it, you've seen it all! Well that's all well and good but I'm telling you, there's magic in letting go of your plans!
Some of our greatest experiences on the road have happened after we had let go of scheduling. One of the best and most memorable parts of our trip was when we were meeting up with friends just to do an "overnighter" with them in Mission Beach, Queensland before continuing north to Cape Yorke. We were still feeling like we had a few rogue ants left in our pants at this point as it was late July and most experienced nomads will tell you it's best to be in far North QLD between June and August to make the most of the dry season. Over dinner we were invited to go explore the islands off Mission Beach by our friend's cousin (I know I suggested to ignore some of these cousinly suggestions, but this was one was too good to be true). So, we forfeited our "overnight" plans, jagged a few swags to borrow and head out to the islands to do a sneaky camp out. One night rolled into two and eventually two nights rolled into three before we ran out of food and had to head back to the mainland. All in all, we pumped the breaks in our schedule to make room for some spontaneity and magic it was!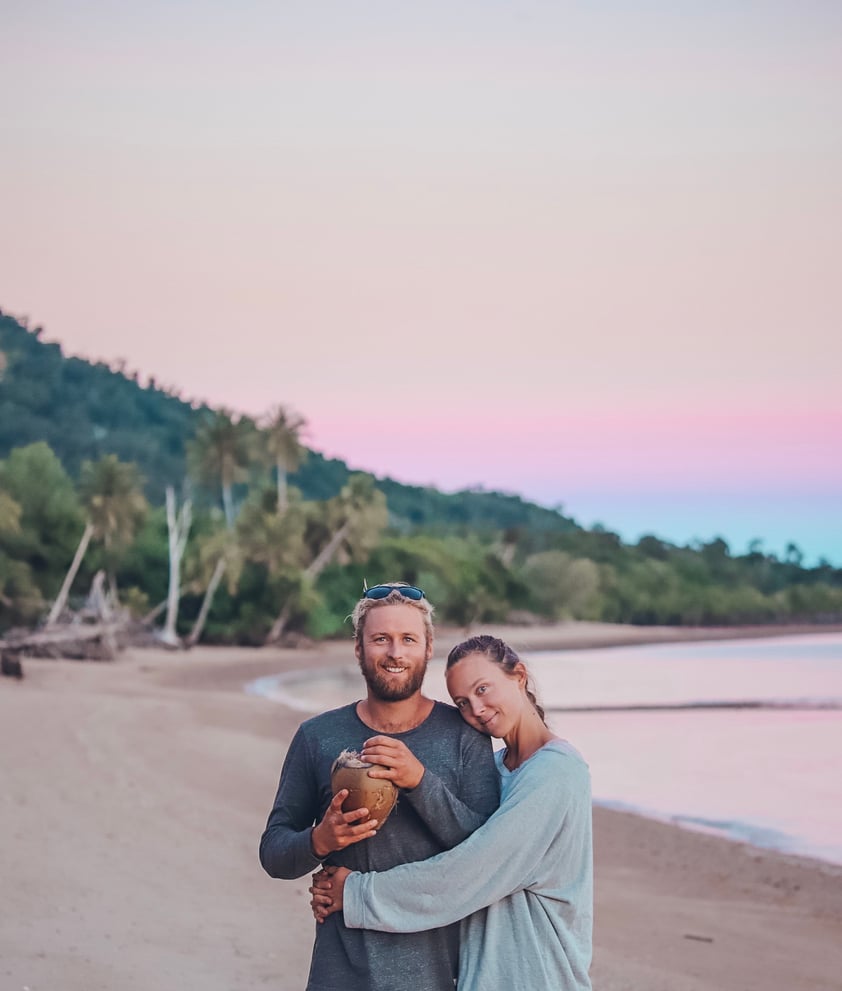 [Final night on the islands drinking coconuts Trav picked from the trees.]
These kinds of experiences are often overlooked or entirely missed when you set out to do it all and travel to as many places as physically possible in your travel timeline. You see as a culture we are so focussed on doing that we forget to slow down and just be. So next time you book a holiday make sure you leave some room for magic. Room to immerse yourself in each moment, place and experience so that you can truly reap the rewards of what holidaying is all about, adventure coupled with unwinding from the day to day grind we tend to get bogged down in.
Believe us you'll actually see and experience a whole lot more by doing so.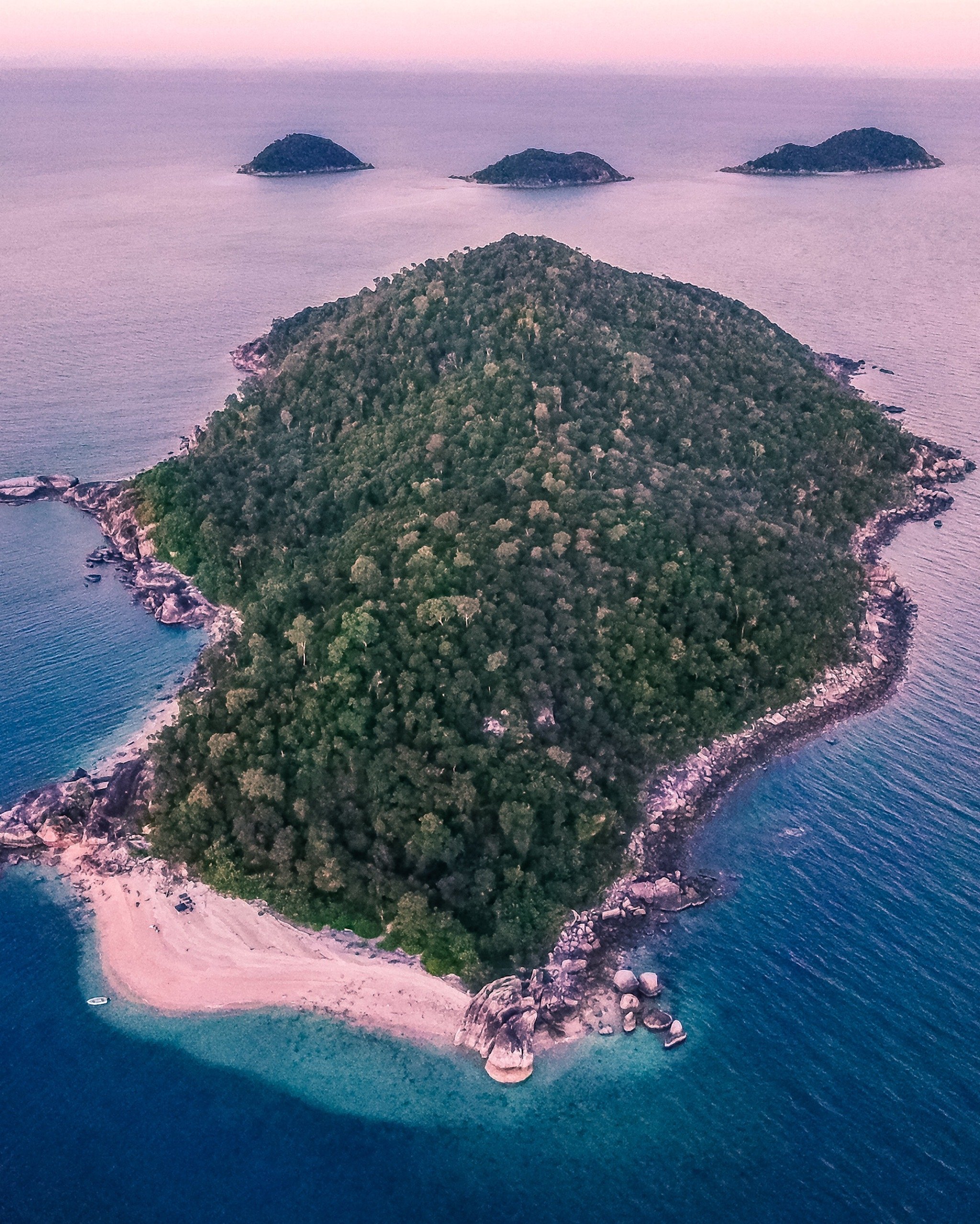 [Our "Island home" by @emu_escape.]