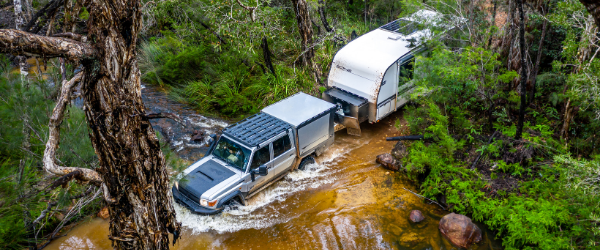 Do I Need An Off-Road Caravan
Many people fall victim to the idea, if I don't go off road, I don't need an off road caravan. But buying an off road caravan is not just for the brave who dare drive the road less travelled, it also offers superior on road capabilities and gives you the option to take your caravan into some more private camping areas.
Let's be honest, the Australian roads are a little rough around the edges, some major roads are still unsealed, and who doesn't love a private camp spot on a remote beach? However the world of off road caravans can become quite overwhelming, with some vans claiming the off road title while offering little more than some checker plate stone chip protection, while others could be mistaken for a luxury hotel room all while out performing almost every other off road van on the market.
It's important to understand that for road caravans to be true off road caravans, there isn't a black and white line, but the full spectrum of grey in between, which is why ZONE RV have produced a series of caravans that clearly provide superior quality vans and solutions to suit off road and/or road travel.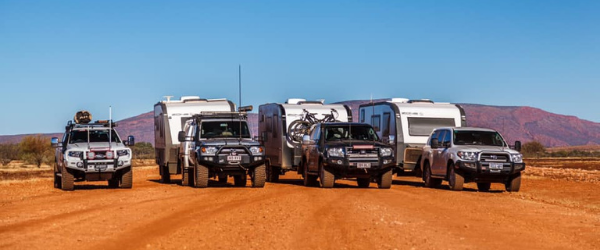 What makes off road caravans a must have, are their superior construction. Traditional vans are built using timber frames, which are attached to a chassis and then clad, while ZONE RV's range of caravans are built using a unique monocoque construction, comprising superior composite panels that are fully integrated with the chassis and with each other, making them the strongest, yet lightest caravans on the market. This cutting edge technology not only translates to superior off road performance, but excellent road capabilities and increased longevity of your caravan. The single styled construction means all caravans are dust proof and waterproof, essential when needing to survive the barrage of dust the Australian roads hit you with.
Dust is known as a micro abrasive, similar to what your Jiff washing liquid is like. If dust is able to enter your caravan, it will slowly but surely break down any moving components, such as draws, joins, seals, electronics and especially fridges. The only way to avoid this is to stop dust from ever entering your caravan.
The interior advantages of an off road caravan is also present in the construction of the cabinetry, but be sure to check with the manufacturer what construction method they use. Traditional timber frame structures are usually secured to the walls of the caravan, which rattle apart on Australia's corrugated roads or even less than perfect sealed roads.
A premium quality off road caravan utilise aluminium frames for the cabinetry, which are then securely bonded onto the floor as well as each other, forming part of the monocoque structure. The singular structure of the caravan forms near indestructible cabinetry, able to withstand harsh corrugations and rough roads.
An off road caravan's superiority is also evident in the tow points. A more robust off road specific chassis secures the van to the hitch point, while a multi directional hitch allows the van to move independently to the vehicle, reducing strain on the attachment point to the tow vehicle.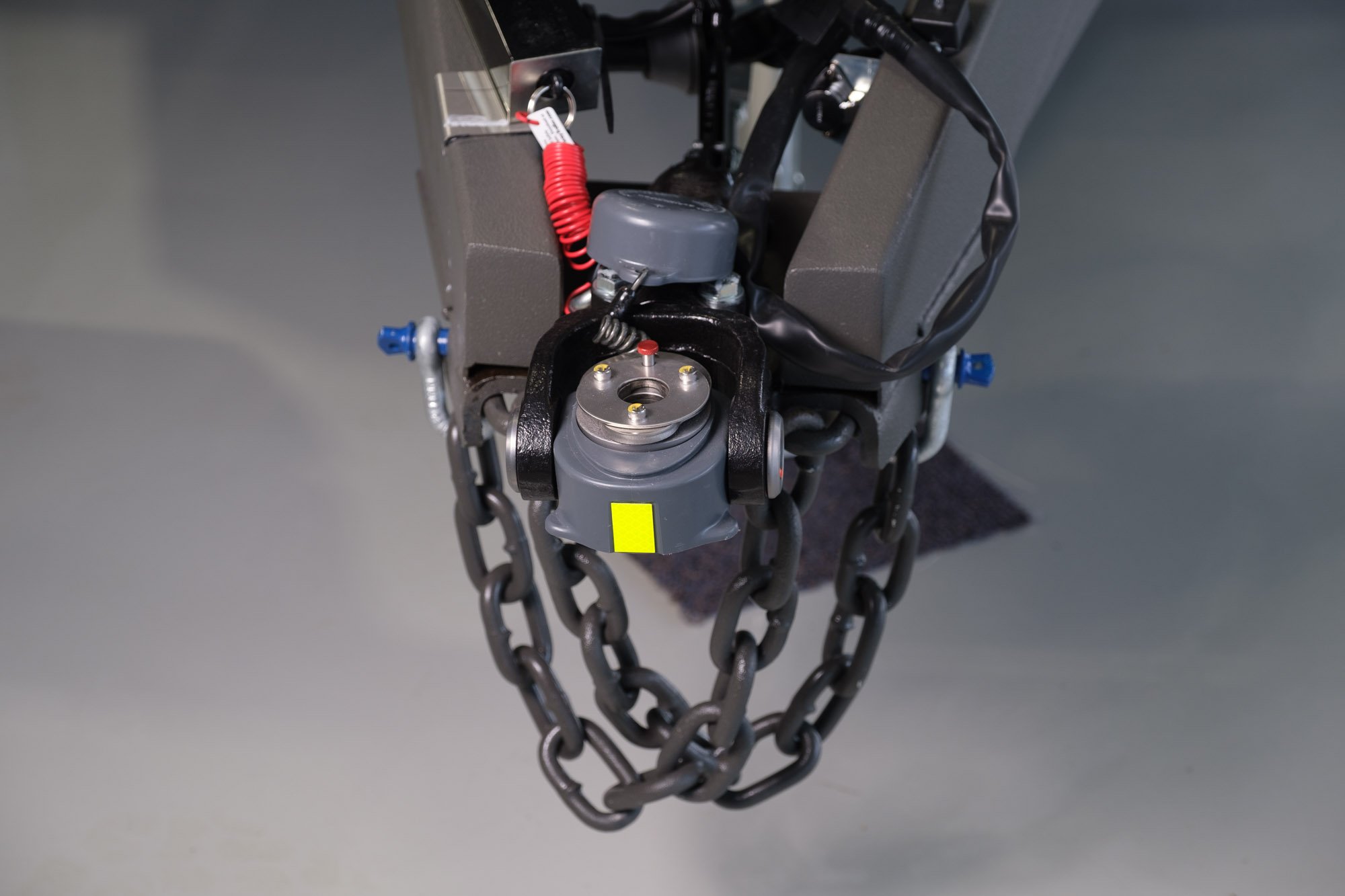 Check the off road van has sufficient clearance in the front end of the chassis, that the underside of the hitch plate has added protection and that the cross members and weld points of the chassis have additional plates for added strength.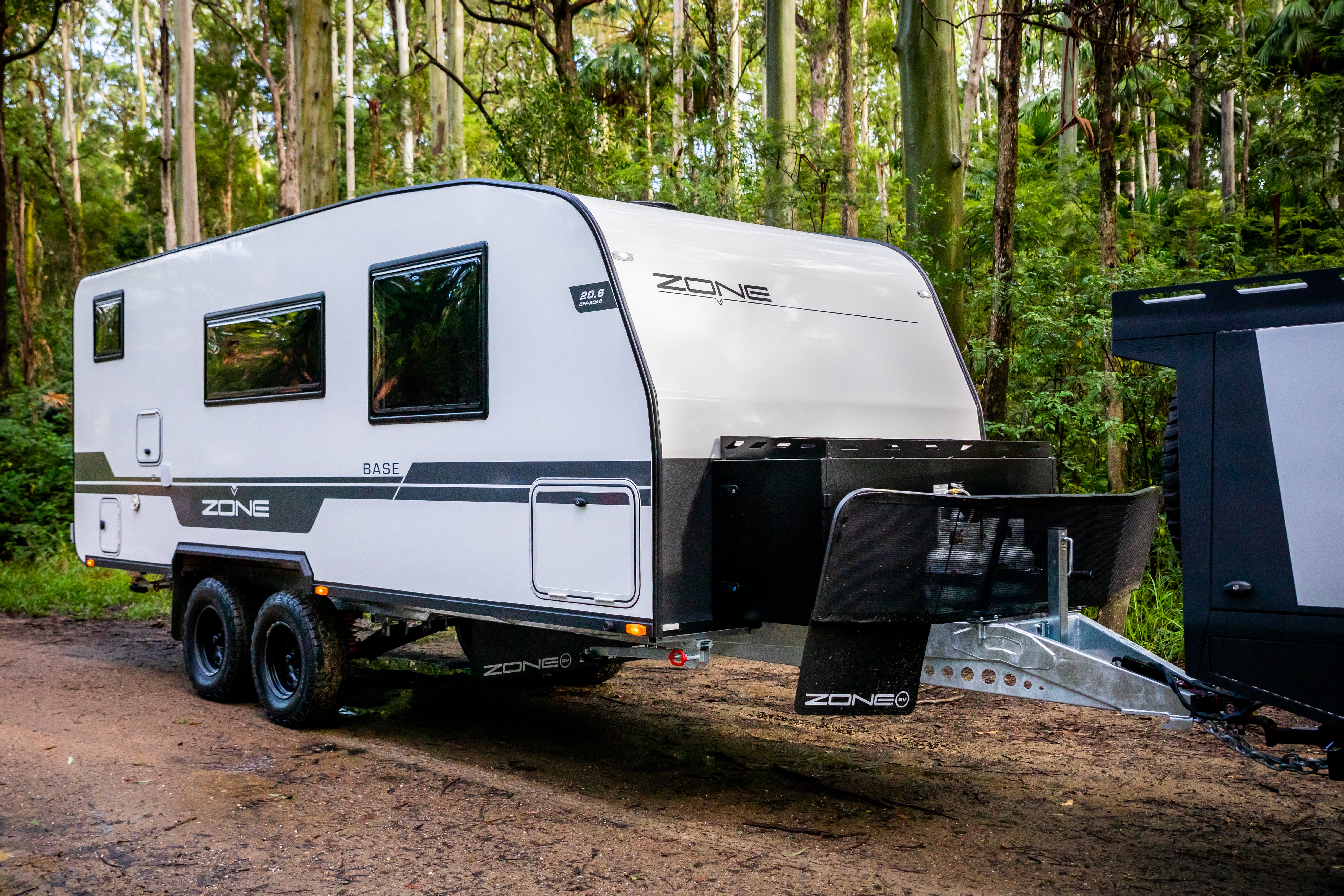 Off road caravans also outdo their road travelling counterparts in their suspension setup. Traditional road vans sport the roller-rocker leaf spring systems, which can work very well on smooth bitumen roads, but the reality is, these roads are few and far between with the likelihood of needing to drive on some less than perfect roads in between.
Almost everyone can remember driving in a car with the old leaf springs and hitting the roof every time you hit a speed bump… and that was with your seatbelt on! Just imagine what those sorts of bumps are doing to your caravan. Most off road caravans have moved to independent suspension such as the Cruisemaster XT coil and Cruisemaster XT Air Bag suspension, allowing longer and independent wheel travel with some of the more expensive models using automated 'smart' airbag suspension such as the Cruisemaster ATX Auto Level, which can be controlled via an app and offers superior performance on and off the road.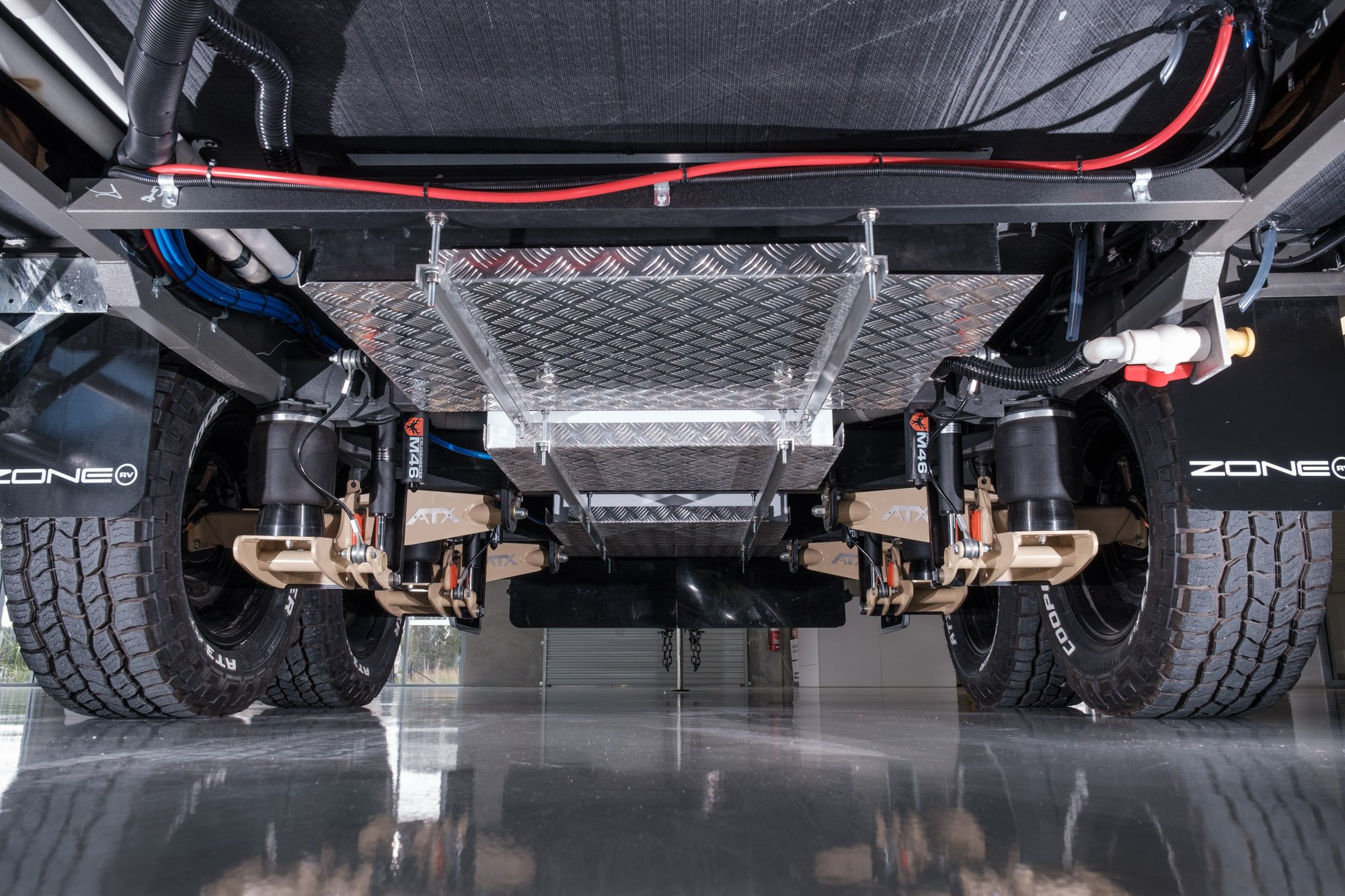 All off road and touring vans also take advantage of superior all terrain tyres, which are highly recommended. The difference between a road tyre and all terrain tyre is not only in the tread pattern, but also the strength of a tyre. Thicker tread pattern means less chance of a puncture, but also thicker and strong sidewalls reduce your chance of having a sidewall blowout. The deep channels in the tread also help displace water more rapidly, decreasing your chance of aquaplaning and increasing your confidence to drive in poor weather. The stronger tyres also allow you to lower your tyre pressure to much lower pressures, increasing the ride comfort on those long corrugated roads.
If a full blown off road caravan isn't what you are looking for, then some of the touring caravans might be for you. Inspired by their off road counterparts, these caravans' have taken the essential design features and applied them to a more road oriented caravan.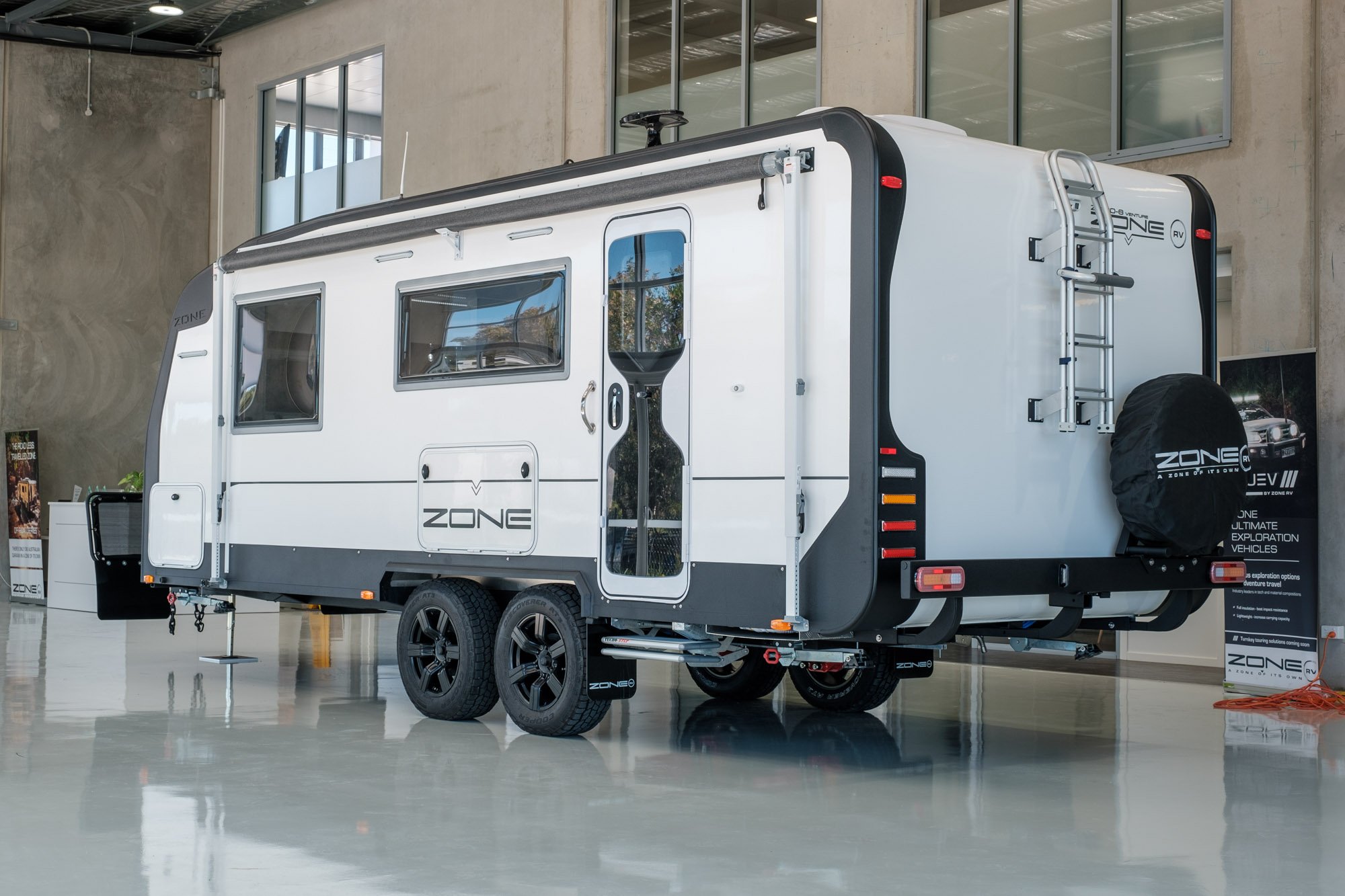 ZONE RV's VENTURE SERIES represents an evolution in premium touring caravan design, using their revolutionary off road design features in a luxurious yet lightweight, full sized road oriented caravan. With superior on road towing and integrated safety features, large water storage options, state of the art electronics and solar systems, full ensuite, queen size bed and innovative kitchen design, you are sure to want to upgrade to a ZONE RV.